at peace? retreat 2018
"For out of His fullness we have all received grace upon grace"
John 1:16, Evangelical Heritage Version (EHV)
This retreat is a full day event held annually on the first Saturday of October. The first retreat was held in 2009. Since then, the Lord has blessed us each year and we look forward to sharing God's love for many years to come. We spend the day growing in the Word and relaxing in fellowship with our sisters in faith.
This year our keynote speaker will be Professor Earle Treptow and our closing devotion will be by Pastor Karl Shauland.
For details of the workshops and speaker biographies, please see the links below!
For more information, please contact atpeaceretreat@gmail.com. We look forward to serving you!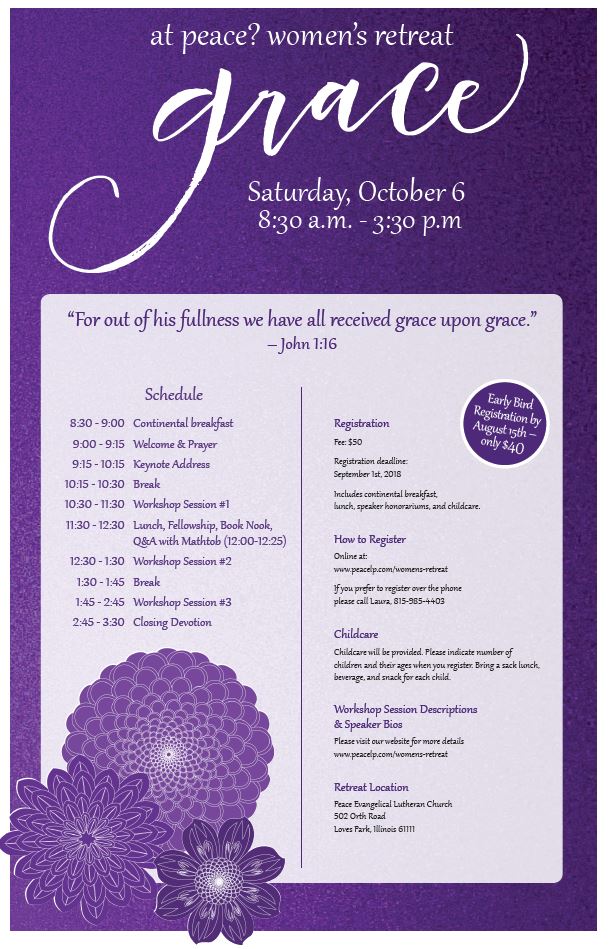 Registration
Registration
Please click here to register online for the retreat. If you prefer to register by phone, please call Laura at 815-985-4403
Payment
By Check: Please make checks payable to Peace Women's Ministry. Please mail your check to:
Peace Women's Ministry, 502 Orth Road, Loves Park, IL 61111
Online: Payment can be made online. Please click here:
T-Shirts
We will be providing t-shirts for the event. To order a shirt, please click below:
WOrkshops
For details on the available workshops, please click the button below.
Speaker Biographies
For biographies of our workshop presenters, please click below.